Today we have some interesting activity from the last few days on earth including comet diving into the sun, coronal holes, and volcanic unrest and eruptions. Astrologically we look a lot like yesterday with some subtle Moon changes summarized below.
View Universal Astrology Live Stream from 10AM to 7PM PST Daily
SECTION 1: EARTH'S SIDEREAL ASTROLOGY CHART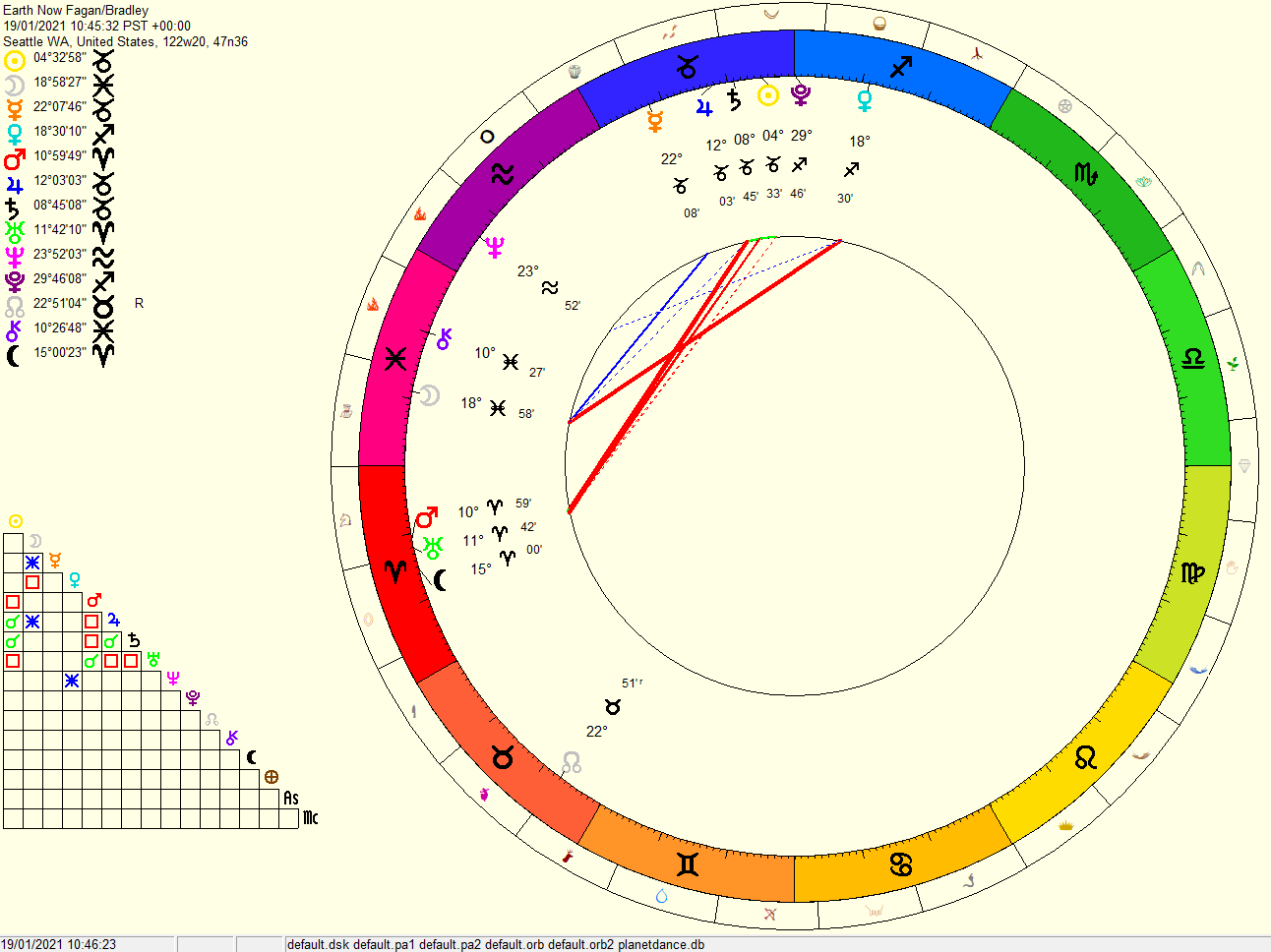 Classic Planetary Ruler of the Day: The Mars rules Tuesdays
Planetary Chart Ruler of the Day: Saturn (ruler of Capricorn)
Spheres of Power: Saturn, Mars (ruler of Aries)
Moon Phase: Waxing Crescent
Illumination: 28%
Sidereal Zodiac: Pisces
Nakshatras:
Ashwini – Mars, Uranus
Bharani – Dark Moon (Lilith)
Rohini – North Node (Rahu)
Puvashadha – Venus
Uttarashadha – Sun, Saturn, Pluto
Shravana – Mercury, Jupiter
Purva Bhadra – Neptune
Uttara Bhadra – Chiron
Revati – Moon
Fix star alignments today include:
Mercury to Nashira (♑), and Sualocin (Delphinus Constellation 🐬) which portends to the pleasures and travel and happiness "but is in danger of suffering from ingratitude"
Venus to Dorsum (back of the sea goat Capricorni ♑)
Jupiter to Oculus (Capricorni horns ♑) or the "Mansion of Kings, may portend to major storms especially at sea
Saturn to Sham which also portends to 'violent weather'
Primary Aspects Today:
Sun, Jupiter, Saturn, Pluto conjunction in Capricorn ♑
Moon, Chiron conjunction in Pisces ♓
Mars, Uranus, and Lilith, conjunction in Aries ♈ becomes exact 1/20
Important Geocentric Aspects, Patterns and StarTypes:
Mars/Uranus/Lilith ♈ squares Sun/Jupiter/Saturn ♑
Moon ♓ sextile Mercury/Jupiter ♑

SECTION 2: HELIOCENTRIC CHARTS & SOLAR SPACE WEATHER
Space Weather Highlights Today
Corona Holes in view: The northern pole of the sun has two areas and so does the south both giving out solar wind streams. 
Heliochart Astrology Today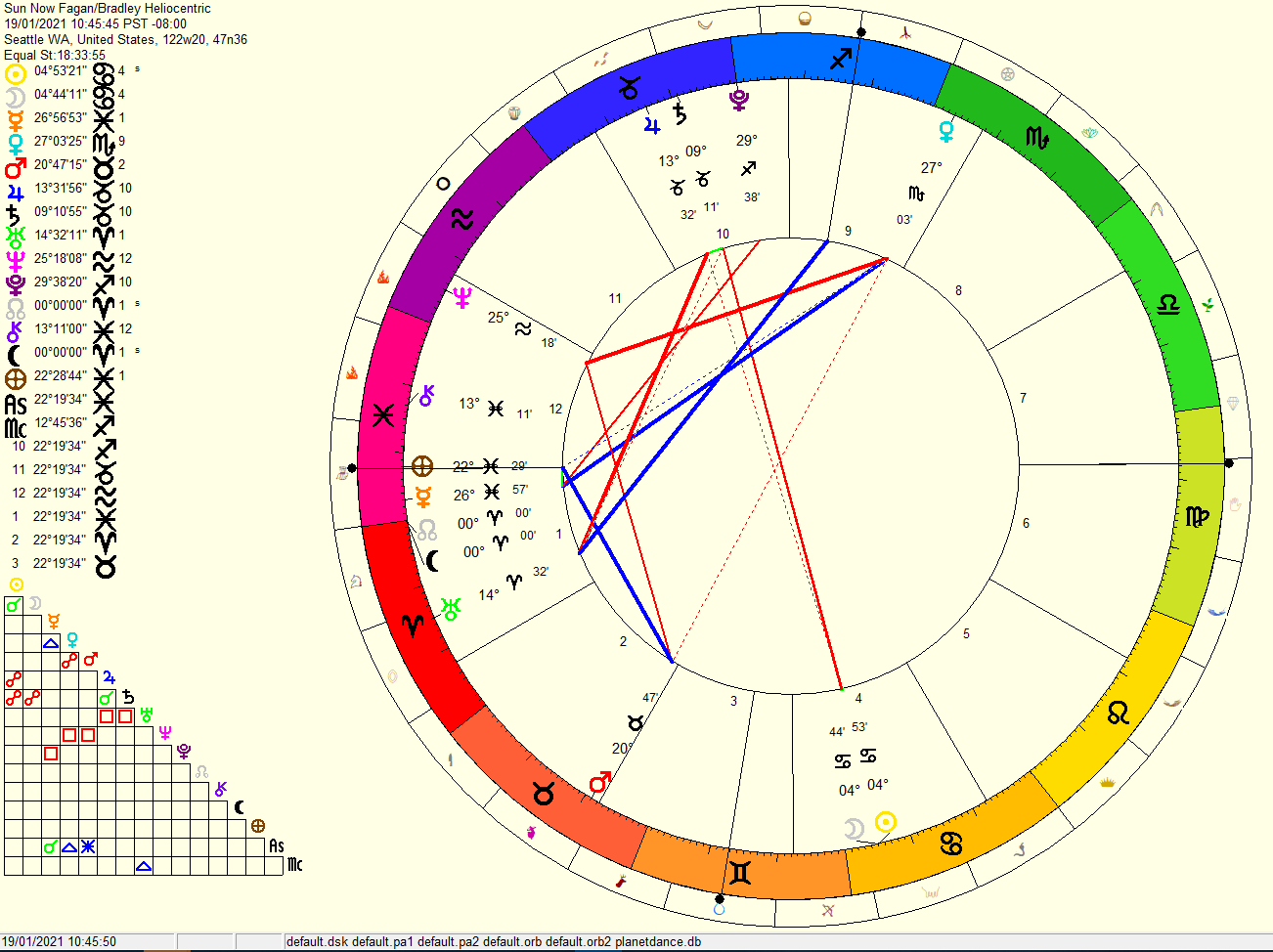 Helio Chart Rulers today: Saturn and the Moon
Solar (Helio) Aspects and Conjunctions today:
Sun oppose Saturn ♑
Moon ♋ oppose Saturn ♑
Mercury ♓ trine Venus ♏
Venus ♏ oppose Mars ♉
Venus ♏ square Neptune ♒
Mars square Neptune ♒
Jupiter still conjunct Saturn ♑
Uranus ♈ squares Jupiter/Saturn
SECTION 3: GEO/EARTH ENVIRONMENT
This section aims to address the activity upon earth such as weather and natural disasters, with astrology charts and cartography.
Astrology Elemental Balance Today (Geocentric):
-3 Air, 37 Earth, 16 Water, 43 Fire,
27 Masculine, -3 Feminine
Earth's Activity
Sig. Earthquakes Last 24 Hours: 
6.4 Earthquake in Argentina, WSW of Pocito 29 km – 1/18 18:46 UTC
Earthquakes in the USA today:
Hawaii, Alaska, Idaho, California have all had quakes less than 3.0 mag today.
Volcanic Activity Recently: View 1/18 post
Weather Storms today: View 1/18 post
Lightning Activity today: View 1/18 post
Schumann Resonance today: 
SECTION 4: ESOTERIC UNIVERSAL ASTROLOGY
| | | |
| --- | --- | --- |
| Ray 1 | Will & Power, the will to Initiate | 24.4% |
| Ray 2 | Love & Wisdom, the will to Unify | 16.6% |
| Ray 3 | Active Creative Intelligence, the will to Evolve | 13.4% |
| Ray 4 | Harmony Through Conflict, the will to Harmonize | 14.7% |
| Ray 5 | Science & Healing, the will to Act | 12.9% |
| Ray 6 | Idealism & Devotion, the will to Cause | 3.6% |
| Ray 7 | Order & Law, the will to Express | 24.4% |
SECTION 5: INTERPRETATION OF ASTROLOGY TODAY 
Mars and Uranus become exact tomorrow just in time for the Inauguration in the US tomorrow. Expect a more thorough interpretation tomorrow morning.
Yesterday (View 1/18 post) we had the Moon/Chiron sixtile to Capricorn with the Sun/Jupiter/Saturn but today the Moon makes a sextile to Mercury and Jupiter. This is an intereting move consider events tomorrow. Healing of the emotional matters in Pisces. Then an opportunity for those emotional issues to be addressed with the mind and the soul (Mercury, Jupiter rules the chakra of the Seat of the Soul).
Emotional tides were high in my house yesterday, and I'm afraid the waters are getting a little choppier still.
SECTION 6: GLOBAL EVENTS & TODAYS RECOMMENDATIONS